LuJoSoft Movie Nfo Creator Final Version.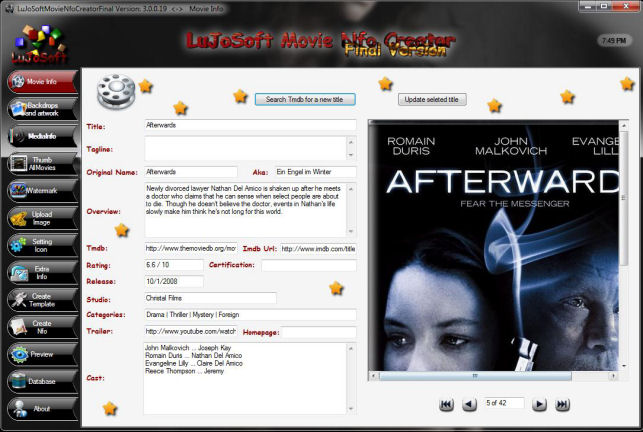 Introduction:
After many builds and versions of Movie Nfo Creator, I finally achieved what I really wanted from this app. Since day one I wanted to create a tool that would help everyone to create the perfect description to post in forums on the web. With this version LuJoSoft Movie Nfo Creator Final I really accomplish my goals, to make it so that everyone will be able to use it no matter what kind of template they use to create their descriptions, because now you have the possibility of creating your own template to use with the program.
The time for me to create special template for groups or individual is finish. Hope that everyone will enjoy this new version and if you see that I forgot to include certain function just let me know in
Here
. Now lets start with the description.
What's new in this version:
Extended glass effect on the application. Desktop Composition must be enable.
You can now save in text format "without bbcodes".
Possibility to enter your own Api key.
New installation pakage, you install the app where you want.
New update function, update when ever you want or just put it on auto update.
Help section on all the function of LuJoSoft Movie Nfo Creator Final Version.
The most important of all you can now create your own template then re-use it when ever you need
Feature:
Easy to use.
Support almost all video formats.
Fast.
Ready to post your nfo in 1 minute.
Almost no typing.
Create any thumbnails from a movie in sec.
Watermark all your image.
Upload to ImageShack all your image to be use in your description.
You can use your own icons.
You can choose to include up to 15 different screenshots.
Up to five logos can be include.Footnote can be include.
Preview browser to see your output in a real post.
Database from sql sever compact edition.
Live search for any title in the database.
Backup and restore to any folder for the database.And much more.
System Requirements:
Should work on any windows version tested only on 32bit OS.
Desktop Composition must be enable. But still work without it.
.Net framework 3.5 SP1. Note that the setup will install it if needed.
Sql server Compact Edition. Note that the setup will install it.
A screen resolution to fit the application 1087 X 728.
Install Info:
Download LuJoSoftMovieNfoCreatorFinalSetup.exe
Double click LuJoSoftMovieNfoCreatorFinalSetup.exe
Enjoy!!!
No longer supported for newest version go to this forum viewtopic.php?f=43&t=617